Our favourite villas for 2020
From castelli to châteaux, our villa experts have selected 40 of their favourite properties to rent, and put the spotlight on five examples
Reading time: 3 minutes
Villa Neptune, Côte d'Azur
Best for losing yourself
It's been just over a century since F Scott Fitzgerald, wife Zelda, and daughter Scottie arrived in the French Riviera to live it up on the Côte d'Azur with the likes of Ernest Hemingway, Pablo Picasso, and Dorothy Parker. Fitzgerald and his gregarious gang – the "lost generation" of Americans who were escaping the post-war, Prohibition doldrums in the USA – may be long gone. Still, the playground vibe they established on the Riviera lives on. Over 100 years later, the villas are every bit as glamorous as the A-listers and aristocrats who holiday here. Five-bedroom Villa Neptune, located on the water's edge of the Bay of Cannes, offers magnificent Med views from pretty much every room. It's an escapist's dream – there's a Jacuzzi on the terrace, alfresco shaded dining area, and private jetty.
Dalmatian Dream, Dalmatian Coast
Best for history lovers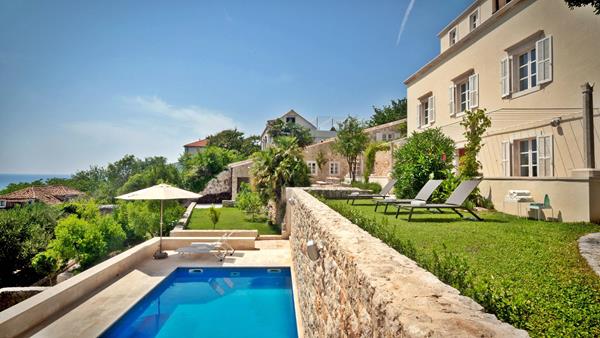 Dubrovnik's Stari Grad (Old Town) with its Adriatic Sea backdrop, thick medieval walls, Gothic good looks, and associations with gone-but-not-forgotten Game of Thrones film sets is as gorgeous as it is historic. The allure of this storied Croatian city on the southern Dalmatian Coast is as strong as ever. If you feel the city's medieval glories beckoning, then Dalmatian Dream is just 500 metres from the Old Town. Built of creamy local stone with pretty terraces tumbling down the hillside scattered with social areas and a pool, this 300-year-old villa has been lovingly restored. The seven bedrooms and interior communal areas sport a contemporary Nordic-inspired style – simple, modern lines and neutral colours. There's a Finnish sauna, and a self-contained apartment for granny or nanny.

Villa Veo, Majorca
Best for outdoor living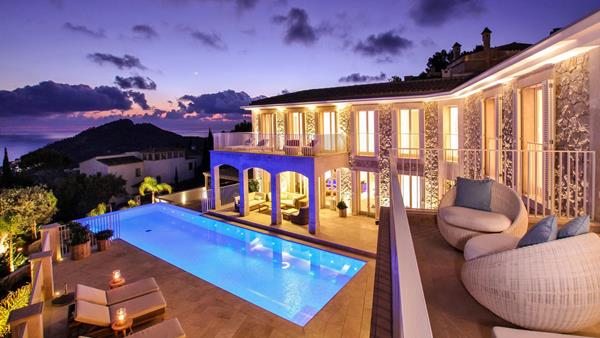 Described by Gertrude Stein as "paradise", Majorca is practically sunk under the weight of its Spanish charms. The largest of the Balearic Islands is made for exploring – the pace is sedate, the living is easy, and the coastline's pretty coves shout perfect Mediterranean island. Although once you see Villa Veo, exploration might be the last thing on your mind. Perched high on the hills on the outskirts of Port d'Andratx, the six-bedroom house offers a home cinema, bar, and gym inside. Outside, there are panoramic views of both Cala Llamp Bay and the dramatic Tramuntana Mountains from the wraparound terraces that feature a 15-metre infinity pool, day beds, and dining and social areas.

Villa le Ninfe, Lake Como
Best for design mavens
Play house at Villa le Ninfe, a seven-bedroom mini-mansion made for sharing with your favourites. This modern villa was reopened after a three-year renovation, and it's an awesome architectural vision of stone and glass. Looking inwards, there's a library, wine cellar, gym, spa with hammam, sauna and massage room, and a home cinema. Outside, there's a recessed firepit area, a heated lakeside lap-pool, and a rooftop terrace. From the dock, launch the villa's five-and-a-half-metre boat to visit Bellagio, a picturesque and popular mid-lake village located opposite Villa le Ninfe, to stroll through the azalea- and rhododendron-filled gardens of neoclassical Villa Melzi.

Parco del Principe, Tuscany
Best for a big celebration
Staying here is a glorious exercise in playing at being Italian toffs in the Tuscan countryside. Wannabe principe and principessa will love this luxurious neogothic estate, which was initially built in the 1800s by an aristocratic Tuscan family. This villa near Siena has recently undergone a 12-year renovation by model-turned-designer and owner, Astrid Schiller Wirth. With its mix of antiques and custom pieces, the eight-bedroom, three-storey property is stately and has style to spare. Despite its history, inside there's no shortage of modern amenities. Outside, there are alfresco dining areas and a swimming pool, and the 25 hectares of surrounding parkland – adorned with cedar, elm, cypress, lemon, and pomegranate trees – are a dream setting for a party.


Want to see more articles like this? Read the latest issue of A&K's Sundowner magazine online and subscribe to our mailing list here.
Our favourites villas for 2020
Croatia

France

Greece

Italy

Portugal

Spain
From $13,888 per week
A short stroll from the historic heart of Dubrovnik brings you to the grounds of this lovingly restored 300 year-old villa
From $9,662 per week
Carved into the hillside just a couple of meters away from the waterfront, this 4-bedroom villa oozes style.