Our top 10 villas for summer 2021
The 10 properties that our villa specialists are dreaming of escaping to in summer 2021
Reading time: 3 minutes
Which villas have made it onto our villas specialists' wish lists for 2021? Which properties are they recommending to clients seeking the perfect place in which to reunite with loved ones this summer? Read on to find out…
Le Mas des Chenes Verts
Sleeps 12 | Luberon, France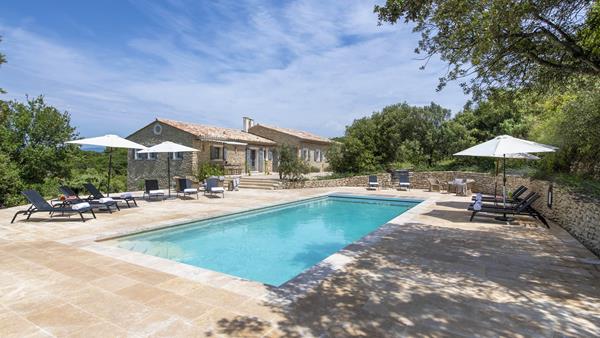 You'd be forgiven for mistaking this modern, newly built house for a much older building. Indeed, by using traditional methods, reclaimed materials and local artisans, the owner hoped that people would assume Le Mas des Chenes Verts has stood in this spot for centuries. The open-plan living space is vast, bright and well kitted-out. It offers awesome views of Mount Ventoux, the giant of Provence. The six en-suite bedrooms are spacious; one is distinguished by access to the terrace, and another with a lounge space and ingress to the garden. There is a large, sunken swimming pool, a shaded outdoor barbecuing area and terraces for alfresco meals.
Villa Palombaggia
Sleeps 10 | Corsica, France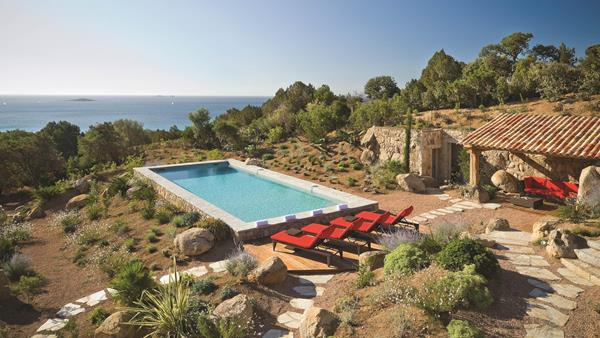 On Villa Palombaggia's doorstep is the beach from which this property proudly takes its name. South of Porto Vecchio, pine tree-lined Palombaggia is renowned as one of the best beaches on the 'Scented Isle' of Corsica, thanks to its turquoise-hued waters and reddish rocks. Away from the shore and back at the stone-clad and red roof-tiled villa, the ocean views are superb, as is the rockery-style garden. The stylish house itself is well suited to children as well as to those prone to wool-gathering on sunloungers. There's an impressive playground as well as a cool cinema room.
Villa Surram
Sleeps 10 | French Riviera, France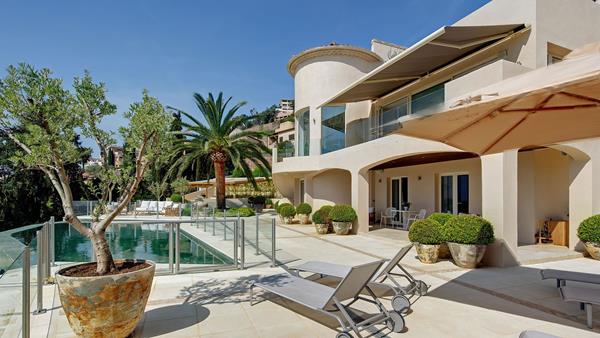 This elegant, two-story villa – with its large and many windows, balconies, terraces and infinity-edged pool – has a light, summery feel that perfectly matches the vibe of the Côte d'Azur. Eminently welcoming as well as unmistakably modern, you'll glide across the polished floors towards the sound of the ocean and the distinctive clanking of masts in nearby Port de la Galere. Outside the swimming pool is tastefully enclosed, so this villa is enticing for families with younger children as well as older, and those keen to explore the French Riviera à la F. Scott Fitzgerald, his wife Zelda and daughter Scottie some hundred years ago.
La Limonaia
Sleeps 16 | Tuscany, Italy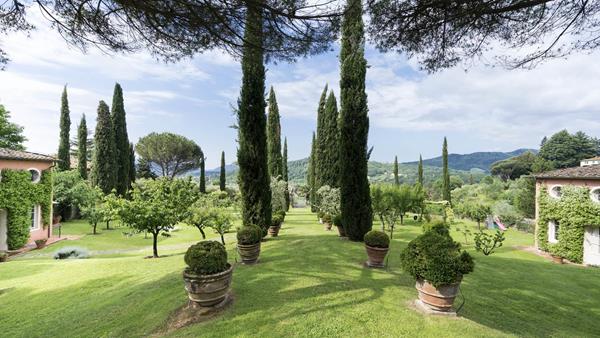 Just north of the lovely city of Lucca, with its imposing Renaissance walls, lies a beautiful Tuscan estate. In the grounds of this estate, there are two farmhouses, Limonaia Grande and Limonaia Piccola, which sit facing each other across an orchard of peaches, plums, figs and vines. They are surrounded by rolling hills, olive groves, and majestic clusters of cypress trees and sturdy oaks, and the air is scented with the refreshing scent of lemons. This pair of converted farmhouses are perfect for a large family or group of friends reuniting. La Limonaia's flexible accommodation options offer five twins and three doubles, many of which are en suite.
Relais Ulisse
Sleeps 20 | Sorrento, Italy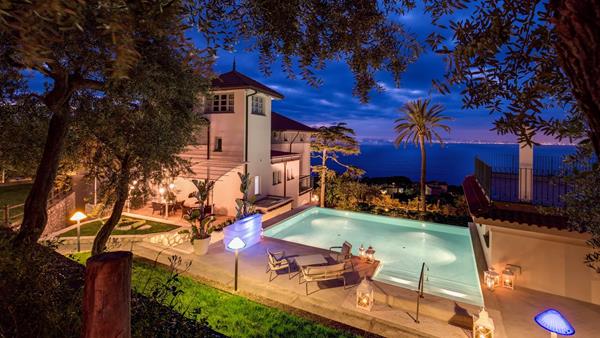 One certainty about renting a villa in or near Sorrento are the views from the area's plunging cliffs. These views have seduced many famous visitors over the years. Sorrento has been popular with tourists since the poet, and first celebrity, Lord Byron visited to sample the air in the early 19th century. Relais Ulisse was initially constructed in 1866 and recently restored to a charming but chic state. The villa sleeps 20 guests in 10 beautiful bedrooms, many of which are frescoed. And it's perfect for all comers, whether you desire to lounge by the pool, relax on a terrace, visit the local beach, day trip to nearby Positano, or simply enjoy the views.
Villa Affaccio
Sleeps 8 | Lake Como, Italy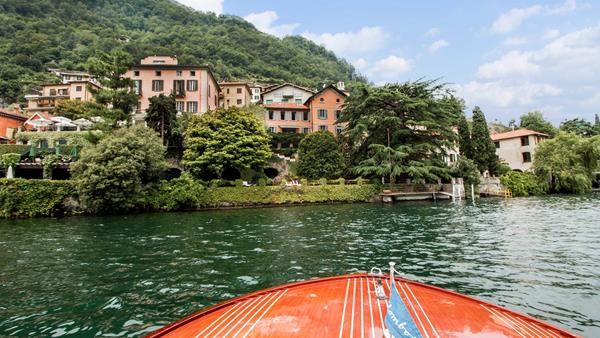 Lake Como has a well-deserved reputation as a playground for the well-heeled. In nearly anywhere else the prospect of glimpsing movie star George Clooney would be sheer fantasy. Still, in Lake Como, especially around the village of Laglio, it seems entirely possible (if not very probable). And Laglio is where you'll find Villa Affaccio. This four-bedroom, 19th-century villa has been renovated by its current owner into a lakeshore home that offers modern comforts but retains many original features: all it's missing is a resident movie star, unless you bring your own, of course.
Villa Tatusa
Sleeps 6 | Santorini, Greece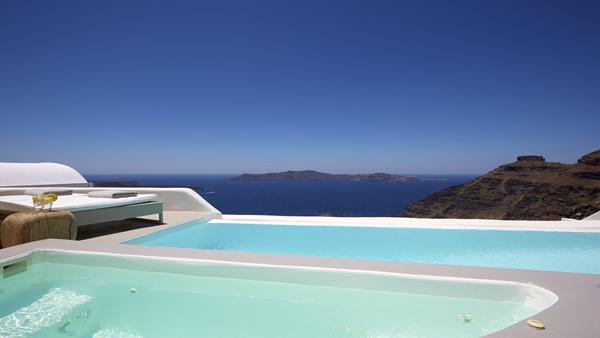 Located at the highest point of the island, the spectacular Villa Tatusa is built right on the edge of a caldera where it has been carved almost entirely from the rock face. The views from the two private sun decks, infinity pool, and Jacuzzi are sublime. Its interiors feature the distinctive curves so typical of the island's traditional architecture.
Villa Destiny
Sleeps 10+2 | Algarve, Portugal
Perched on a cliff edge over an Algarvian coastal town, Villa Destiny offers privacy and breath-taking ocean panoramas. It would be easy to think this tranquil property is remote; however, Carvoeiro's bustle is just a short walk away – assuming you can bear to leave this stylish property. If you can't, enjoy the private pool, unwind in the four-hectare garden, toast the view from one of the alfresco dining areas, or play a match on the villa's tennis court.
A live-in couple prepare meals six days per week, allowing you to focus all your attention on relaxation.
La Luna Rey
Sleeps 8+2 | Majorca, Spain
This tastefully decorated Majorcan villa is tucked away amongst palm trees, lush flat lawns and lavender borders, but it's also just a short drive from the buzzing but charming towns of Pollenca and Alcudia and their respective beaches. The main house contains four bedrooms, one of which enjoys direct access to the pool area, while another leads out onto the garden. Guests will find the fifth bedroom in a sweet little cottage separated from the villa by an orchard. Perfect for parents, while the children stay at the house with grandparents during a multi-generational holiday?
Villa Infinitum
Sleeps 10 | Majorca, Spain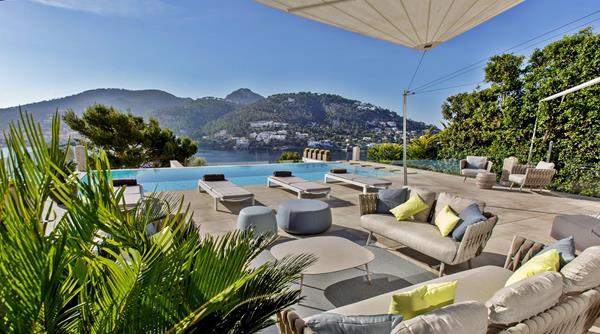 Villa Infinitum sits in one of Majorca's most spectacular settings and offers views over Port d'Andratx's bay and marina. Constructed in 2016 and designed to the highest standard, the villa includes five en-suite bedrooms, four terrace levels, three pools, a sauna, and a gym. The central kitchen and living room open onto a terrace with an infinity pool, while on the roof terrace, you'll find an outdoor kitchen with an alfresco dining lounge and a plunge pool with waterfall feature. For added relaxation, take advantage of the indoor spa area complete with heated lap pool.
---
With many villa holidays already postponed from 2020, we advise early booking to secure your ideal luxury European villa on your preferred travel dates.