Amalfi Coast: The pleasures of Positano
Hollie-Rae Brader whisks the family away to Positano in search of la dolce vita, and La Perla proves to be the perfect home away from home.
My love of Italy reached new heights in 2018, when we travelled here to explore a part of the country we'd yet to visit – the Amalfi Coast. It's a bounty of palazzos, infinity pools, Michelin-starred restaurants, and sublime hotels and villas, all perched perilously on the clifftops of the rugged coastline. Then there are the tiny beaches dotted along the coast, hidden away and hardly touched by tourists.
Positano is a glamorous and fashionable gem, shining brightly at the heart of the Amalfi Coast. Approaching this photogenic town from the water, I instantly fell in love with the sun-bleached peach and blush-coloured buildings cascading down the cliff edge, seemingly right to the sea and almost into the waters below. Its wisteria-filled, winding streets are home to countless cafés, restaurants, and boutiques. Throw in glistening summer sunshine, a glass of fine Italian wine, and you're soon fully immersed in la dolce vita.
This picture postcard setting attracts a fashionable crowd who arrive in their droves. In the summer months it can feel crowded, particularly at the 300-metre long Spiaggia Grande beach. With this in mind, I wanted to shy away from the town's vast array of high-end hotels, in favour of somewhere with supreme privacy, outstanding service, and the ultimate wow factor.
Paradise at La Perla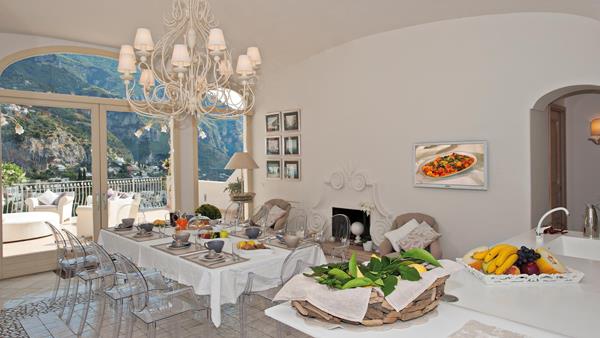 Travelling with my family in tow, I opted for La Perla, part of the A&K Villas exclusive collection. The property is around a seven-minute drive from the centre of town – far enough away to be able to jump in and out of the action as you see fit. This six-bedroom, all en-suite home sleeps 12 people with ample space across three storeys connected by grand staircases, or a lift for those feeling a little lackadaisical. Like the properties I'd seen on arrival, the villa clings to the side of the mountain, with each room boasting impressive views of the town and across the bay.
La Perla is a little slice of secluded paradise. After parking your car in the private facility above the villa, head down a couple of flights of stairs to reach your home-from-home's entrance. On this top floor, you'll find three ample double rooms, a living room area, and a spa. The A&K Villas team is on hand to book a masseuse to visit and tend to your aching muscles during your stay. Trust me, your calves will thank you for it after a few days exploring the near-vertical alleyways of Positano.
The middle floor is the heart of the villa, with two bedrooms, the kitchen and dining room. You'll also find an impressive terrace with sun loungers and seating areas – perfect for evening drinks. If you can tear yourself away from drinking Aperol Spritz on the terrace, head down to the bottom floor to enjoy the water jets and waterfall features of the pool.
My favourite aspect of the stay was housekeeper Monica's daily breakfast. She arrived each morning, before we'd even raised our heads from our plump pillows, to prepare a feast. It was during these sumptuous breakfasts that we'd plan our activities for the day, with Monica imparting local advice and knowledge. She would arrange taxis to pick us up, as well as arranging our transport for the rest of the stay if required. Her daily four-hour maid service ensured the villa was always in pristine condition when we returned. In fact, we'd often come home (and it certainly did feel like home) to a restocked fridge and sweet treats waiting for us.
When life gives you lemons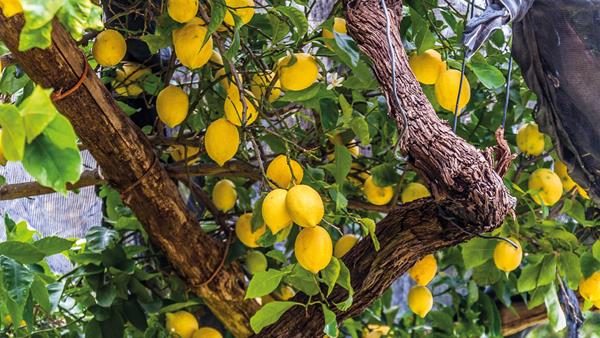 The Amalfi Coast is world famous for its lemons, and as we were keen to learn more about their cultivation, we embarked on a private tour of one of the region's famous lemon farms. The easiest, and most photogenic, way to reach the town of Amalfi, which lies further south along the coast, is by boat from Positano harbour. We jumped aboard the ferry, following the route and timetable recommended to us by A&K.
Our guide Salvatore Aceto wasn't just anyone – his family owns the three-hectare lemon farm we were touring. Our adventure began at the foot of the steps leading up to Amalfi's grand Duomo, where Salvatore in his bright yellow golf buggy was waiting to whizz us 10 minutes inland for our Amalfi Lemon Experience. The farm offers tours, limoncello tastings, and cooking classes, all bookable for A&K Villas guests.
Salvatore's connection with the land his family has farmed for decades, and his passion for sharing their story, was abundantly clear. Within minutes of arriving, he was cutting up gigantic lemons and encouraging us to eat them in their entirety – skin and all; just as the locals consume them.
And we couldn't leave without sampling some of Salvatore's wife's homemade lemon drizzle cake, served alongside a glass of lemon juice (or limoncello). After a morning sipping that sweet lemon liqueur, it was soon time to think about soaking it up with some delicious, traditional Italian fare.
Food and folklore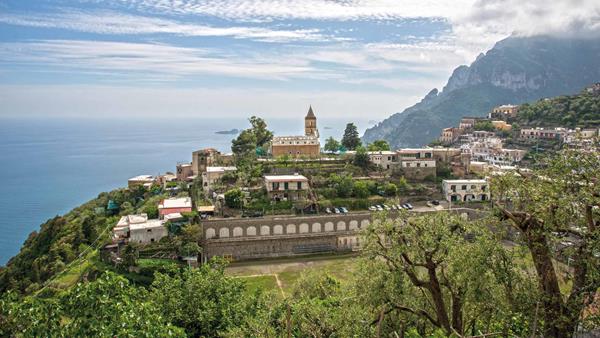 Returning travellers to the area will already know of the exquisite food scene in Positano and the surrounding towns. The likes of La Sponda at La Sirenuse, Don Alfonso 1890, and Zass at Il San Pietro are renowned for their culinary delights and ambient atmospheres, with famous faces often to be seen dining at these spots.
After an exceptional lunch at La Sponda the day prior, I was looking for somewhere off the beaten track for our final meal in Positano. Locals recommended we headed to Ritrovo. Located in Montepertuso up in the mountains above Positano, this tiny eatery offers typically Italian gastronomic delights, plus a sweeping panoramic view of the area. The restaurant, which boasts an extensive Italian fine wine collection, offers a complimentary shuttle service and will pick you up and drop you back anywhere in Positano.
The trip to Ritrovo is much easier now than years gone by, when this quaint village could only be reached by walking up 1,500 steps; it wasn't until recent decades that a road was built connecting the hamlet with Positano. Local folklore claims Montepertuso was once the location of a battle between good and evil, with a hole in the mountainside marking the spot where good was victorious.
We certainly saw the good side of the Amalfi Coast, and Positano has stolen a slice of my heart – along with the rest of Italy.