Sardinia: A foodie paradise where land meets sea
Sardinian cuisine fuses land and sea. A&K's villas are well-appointed for experiencing your very own slice of its foodie heaven.
Situated in the very heart of the Mediterranean, Sardinia is an island of contrasts. A fusion land and sea, the isle's distinct character is reflected in its food and A&K's collection of villas is well-appointed for experiencing your very own slice of Sardinian foodie heaven.
Sardinia is the second largest island in the Mediterranean and its rich culinary history can be traced back thousands of years, influenced by its many foreign invaders starting with the Phoenicians who arrived in 880 BC. Many more followed including the Romans and Spanish, each leaving their cultural influence on the region's food today. Modern Sardinian cuisine is an eclectic Mediterranean mix of surf and turf, intertwined with mouth-watering local specialties that echo the island's granite-studded hillsides and rugged coastline.
Despite its 1,800km of coastline, Sardinia's culinary roots largely lie in its mountain and pastures where the shepherds tend the ovine population of more than four million. The cuisine reflects the rugged landscape as the dishes become more rustic in flavour and it stands to reason that lamb is a staple ingredient here.
Villa Paradiso
A perfect mountain-top retreat for couples or small families, Villa Paradiso is a four-bedroom secluded hideaway enveloped by age-old vineyards and olive groves. One of Italy's most sought-after properties in the exclusive Costa Smeralda, the 8,600-sq-ft living space is set over five buildings interconnected by glass. Set amongst attractive gardens planted with local flora and fauna, the 25-metre long infinity-edged pool offers unrivalled views of the region. Despite its remote location, the property offers easy access to some of the island's most beautiful beaches, as well as fashionable Porto Cervo and Porto Rotondo.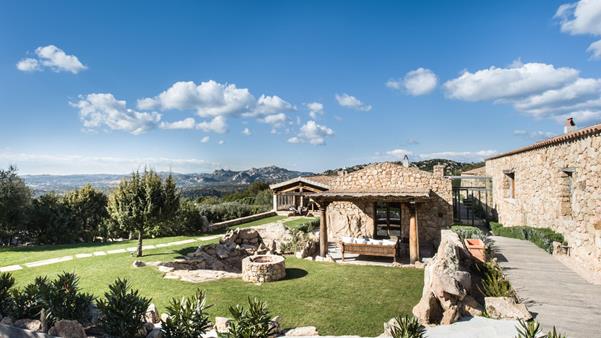 While there, we recommend seeking out and sampling authentic porceddu (suckling pig). Classic 'mountain food', the meat is spit-roasted over a fire or incarralzadu (in a large hole under the fire) creating the most incredibly moist and succulent dish imaginable. Meanwhile those with a stronger stomach shouldn't miss the experience of the Cazu Marzu Pecorino cheese – ripened in mountainside barns and notable for containing live maggots.
Head to the coast and Sardinia's rich fishing heritage comes to the fore. The fishermen who circle its shores truly believe in 'nose to tail' eating, Catalan-style. This is echoed in the 'catch of the day' delicacies served in the island's many exquisite shore-side restaurants, including three which feature in the 2018 Michelin Guide.
Villa Marina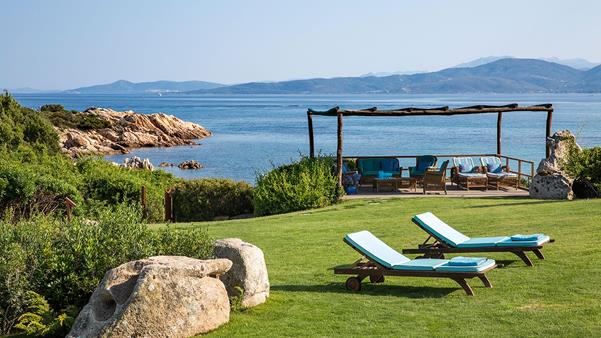 Situated right on the beach in the northeastern corner of the island, Villa Marina is the perfect setting for soaking up the sun from its sandy shores. The contemporary, stylish eight-bedroomed property offers luxurious living with picturesque sea views across the crystal blue waters of the bay. With its own private spa, gym and sauna, complete relaxation is at your fingertips. Head to a nearby village such as San Teodoro and you'll really immerse yourself in Sardinian life. Settle down with a coffee in the main square and sample local speciality gueffos – traditional almond and orange cakes – often found in the island's many panetteria.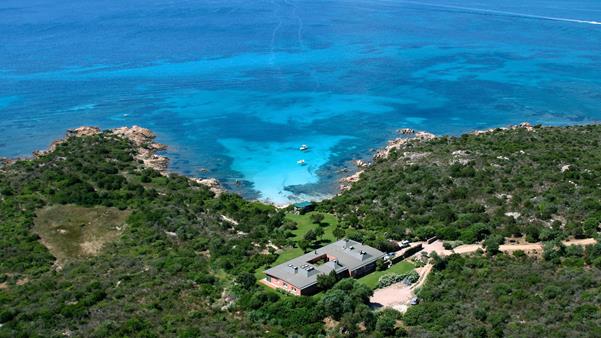 In the words of DH Lawrence, 'Sardinia is different' and never more so than in the gastronomic journey it offers for those who flock to its shores. Its eclectic combination of landscape and flavours make it a culinary one-off, enrobed in rich tradition and surrounded by the tranquil waters of the Mediterranean Sea.